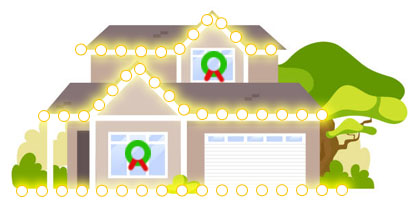 $599 Service + $400 Materials
First Year = Install Service Charge + Materials
Future Years = ONLY Install Service Charge
✨ Custom cut C9 commercial grade lights up to 150 feet, tailored to the exact dimensions of your home, ensuring a seamless and stunning glow.

Complement your roofline illumination with up to 75 feet of C9 ground lighting. Let every corner of your home shimmer and shine.
🎀 We include two lighted 24-inch wreaths, each complemented by a luxurious red bow. Place them at strategic spots to magnify your home's festive allure.
Seeking a more personalized touch? 🌟 Explore our a-la-carte lighting options below. As the seasons come and go, we're here to match your budget and aspirations, continuously expanding your display into a mesmerizing visual masterpiece.
Christmas Lights Online Instant Quote
You can add-on lights and greenery to any base package!