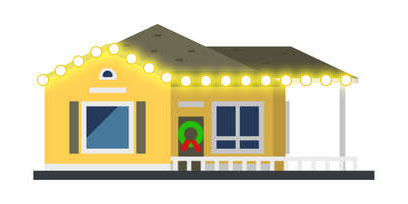 $299 Service + $200 Materials
First Year = Install Service Charge + Materials
Future Years = ONLY Install Service Charge
✨ Revel in the glow of up to 75 feet of premium C9 commercial-grade lights designed explicitly for your roofline. Suitable for nearly every home, ensuring a captivating, luminous experience.

🏡 For double-story residences, a nominal surcharge of $99 is applied, guaranteeing the safety and precision of height-intensive installations.
But there's more! Every package comes with: 🎀 A luxurious, synthetic wreath adorned with a rich red bow. Perfect for your front door, windows, or any spot that needs a sprinkle of festive charm.
Seeking a more personalized touch? 🌟 Explore our a-la-carte lighting options below. As the seasons come and go, we're here to match your budget and aspirations, continuously expanding your display into a mesmerizing visual masterpiece.
Christmas Lights Online Instant Quote
You can add-on lights and greenery to any base package!